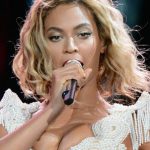 Beyonce is a multi-award winning singer and actress, whose musical hits include 'Crazy In Love' featuring her husband Jay Z. She recently completed her Mrs. Carter Show world tour.
What is Beyonce's real name?
Her real name is Beyonce Giselle Knowles.
Where was she born?
She was born on 4th September 1981 in Houston, Texas.
When did she start her career?
Beyonce began her career with the group Destiny's Child, which was managed by her father Matthew Knowles.
The group are one of the best-selling female groups of all time, enjoying success around the world with hits including 'Say My Name' and 'Survivor'.
What are her career highlights?
Following her success with Destiny's Child, Beyonce left to embark on a solo career that has so far seen her release four albums – 'Dangerously In Love' in 2003, 'B'Day' in 2006, 'I Am… Sasha Fierce' in 2008 and '4' in 2011.
In 2013, she embarked on a worldwide arena tour as part of her Mrs. Carter Show world tour.
In addition to music, Beyonce's work as a humanitarian is well documented.
She has also appeared in several movies, including the starring role in At Last, playing Etta James.
Beyonce has won more than ten Grammy Awards.
She married husband Jay Z in 2008 and the couple had their first child Blue Ivy Carter in January 2012.
Source: http://www.capitalxtra.com/artists/beyonce/